Imagine being able to know what products are trending, before they are actually trending!
You could:
Purchase those products in bulk before everybody else
Sell those products on Amazon before everybody else
Make some serious profit
Phirst gives you that information. And I'm going to show you how you can use that information along with one of Jungle Scout's free tools to make money on Amazon.
5 steps to discover what to sell on Amazon:
Step 1 – Choose a product in the Phirst report to research
Let's take a look at one of the products from a Phirst report as an example. We are going to use "Jogger Scrubs."
As you can see from the chart in one of our reports, Jogger Scrubs have grown exponentially in popularity over the last 5 years. Our subscribers at Phirst are being given access to suppliers and products that meet these trends before other sellers know this is a trending product. We get this info through our big data supplier network that tracks hundreds of millions of behavior signals across the internet and uncover product trends before everybody else. To get started uncovering product trends before everybody else, sign up by clicking here.
Now that we have our product selected from the Phirst report, we are going to start doing some research.
Step 2 – Search for similar products on Amazon
The easiest thing to do here is just search Amazon for "jogger scrubs" first. So let's do that and see what we come up with.
Once I searched for "jogger scrubs" I came up with the results which you can see in the first image. At first glance, I see products with A LOT OF REVIEWS for the first 3 results. That's okay, because they taper off after that and I can see that the products there don't have a dominate position in the search results. That's important because you want to eventually rank high in the search results. But let's take a close look at the second image. I zoomed in because I want you to take a look at the Sponsored listing. The key here is that there is only ONE! This is not an easy thing to come by. This means that people are not really advertising this type of product on Amazon. In fact, the only sponsored ad isn't even for "jogger scrubs". So if you were to advertise this product, you would have no competition. Sometimes there isn't any competition because there isn't any demand. So let's go to the next step and get an estimate for how many of these are selling.
Step 3 – Get sales volume of Top 10 products with Jungle Scout Sales Estimator Tool
To do this, you need to go to the sales estimator tool at https://www.junglescout.com/estimator and input some information. The information you will need is:
Best Seller's Rank number
Which Amazon Marketplace
Amazon Product Category
To get that information, just go to the product page and scroll down to the "Product Description" to find the Best Seller's rank and the product category.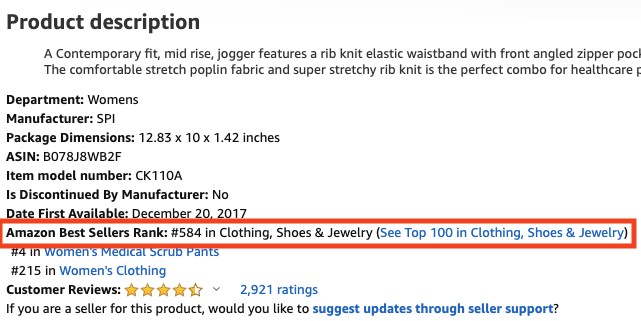 You can see here the Best Seller's rank is 584 and the product category is "Clothing, Shoes & Jewelry". Lastly, you need the Amazon Marketplace, which we recommend using the United States of America because that is the largest market and where we recommend you sell.
So now that we have that information for the first listing, let's plug that in and see what we get for a sales estimate.

Now that is a good product! Over 6,000 sales a month. Imagine making $5-$10 off each sale… you'd be pulling in $30,000-$60,000 a month in profit! So let's look at the rest of the top 10 and see what that looks like. Because getting somewhere into the top 10 is much more attainable than getting in the #1 position. However… with this specific example… you can run ads in Amazon and take over that #1 or #2 spot immediately. So you can get up there and can expect a lot of sales. But for the sake of this guide, let's take a look at those other listings in the top 10.
Monthly sales by Search Result Placement
#1 – 6,030 sales per month
#2 – 5,640 sales per month
#3 – 1,830 sales per month
#4 – 570 sales per month
#5 – 660 sales per month
#6 – 960 sales per month
#7 – 3,840 sales per month
#8 – 960 sales per month
#9 – 540 sales per month
#10 – 990 sales per month
One thing you may be wondering, is why a product in position 7 has more sales than a products in a higher position like 4 through 6. The reason is because we are using the search result for one search phrase, "jogger pants". You can do this same exercise with many other search phrases to increase exposure to buyers and increase sales. So perhaps the product in the #7 spot is ranked #1 in the spot "jogger scrubs for nurses" or "jogger scrubs for women" and that pulls in more sales than the #4 spot who is only ranked for "jogger scrubs".
So far this research is turning out to reveal an excellent opportunity on Amazon. Honestly, I'm having a hard time writing this, because a large part of me wants to stop writing this article and sell the product myself… but I'm not going to do that 🙂
Let's take a look at the reviews of these products and see what features people are liking, and what aren't they liking.
Step 4 – Analyze reviews for Top 10 search results to identify important features
This is where we use existing reviews to gather intel and make sure you are going to source a product that is exactly what the customer wants. That way, when you start selling this product, 5-star reviews start pouring in and increase your search results ranking and establish your social proof. You want to look at both 5-star reviews and 1-star reviews to gather the things people already love about existing products, and also gather the things people don't like so you can make product improvements.
You want to look for things like what I found on the product page,
"I purchased these scrub pants in a black color, and the BLACK COLOR BLEEDS. I've ruined my stethoscope, my required white shoes, a few phone cases, and (maybe TMI, but..) countless bras and panties with the color transfer. Also, any lab coat I put on turns black on the inside from the color rubbing off."
What this does, is tell you how you can improve the quality to have a superior product. A superior product will definitely help you win the battle of the search results rankings, which will help you generate a lot more sales.
Here are the top things I found that will be important for sourcing this product.
Soft and stretchy is important
Elastic band with a drawstring to tighten is necessary
Cuffed ankles that keep them tight – prevents dragging on the floor
Make sure dye doesn't bleed or rub off onto other garments/things
Pockets in the front and back
Step 5 – Source the product from the supplier in the Phirst report
Okay, so now the hard work is complete. You've done your research, you've found the winning product, and you have identified the key features for your product. Now it is time to talk to suppliers and start getting some quotes. For products like this, I highly recommend using Alibaba to source. You are going to find suppliers that will work with you to produce the product you want at lower minimums and lower prices than suppliers you would find in places like the USA or Canada.
It can be hard to find suppliers for products from Phirst, because they are newly trending. People haven't picked up on these trends yet. That's the advantage you have, but also it comes with a difficulty of finding a supplier. Without the product being mainstream yet, not many suppliers have jumped on the bandwagon and starting offering this product yet. This is why I suggest starting with the suppliers we identified. Because we make sure they are legitimate suppliers who are not only independently verified to be legitimate, but also participate in Alibaba's Trade Assurance to protect your money if you choose to purchase from them.
So here is a supplier we identified to start sourcing this product.
I like this supplier because it has Trade Assurance, it has been verified, and they offer custom embroidery for private label branding purposes. At this point, you want to press the "Contact Supplier" button to begin a conversation and start the process of ordering jogger scrubs to your specifications.
Like this guide? Get the trending products and suppliers delivered straight to your inbox on a monthly basis by subscribing to Phirst.